• Velvet Bags | Suede Pouches •
Velvet bags and suede pouches are the most-used packaging products for jewelry, gifts and premiums, cosmetics, electronics and more. The application of different fabrics and production techniques makes our velvet bags and suede pouches unique and diverse to meet individual and multi-purpose needs, thus making us stand out from our competitors.
In order to provide inspirations for creating unique packaging products of your own, we have listed as below some product models we manufactured before for your reference. All can be customized with your logo and size. Fabric colors can be chosen from the color charts listed below. We also welcome any new ideas you may have about these models. We can make changes according to your opinion. Prices can be provided as soon as you send us the details of your requirement.
• How to Order •
Don't know how to order from us? Please check out the order flowchart below for reference: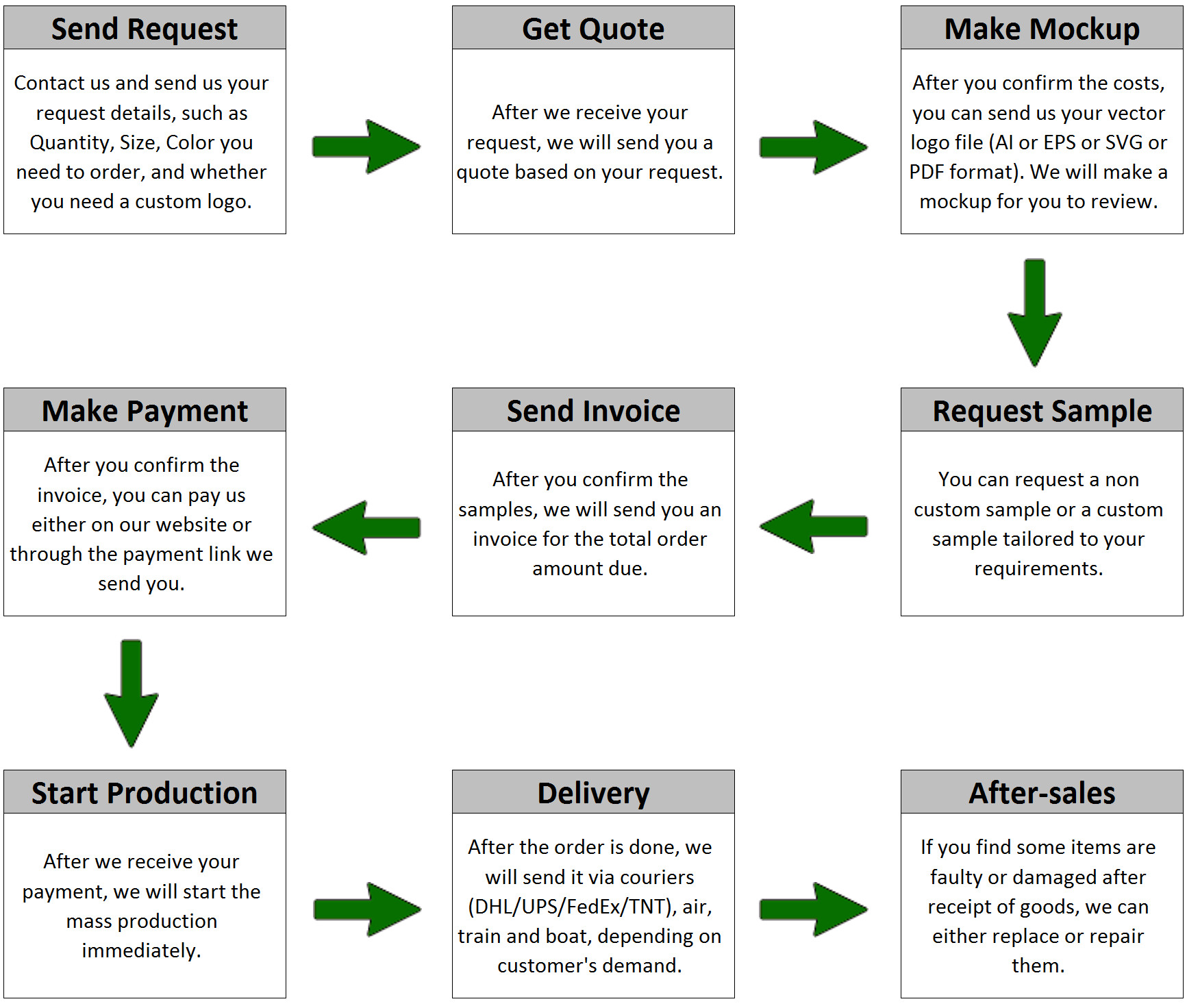 • Fabrics We Use •
The composition of velvet fabrics is generally cotton or a large portion of cotton combined with a small portion of polyester. We are currently using 4 types of fabrics to produce our velvet and suede packaging products:
1. Single-sided velvet, the commonly used velvet fabric, which is velvety on one side. It is a cost-effective and medium-thick velvet fabric with good durability, perfect for making drawstring bags.
2. Double-sided velvet, a thick velvet, both sides are velvety. This is a heavy-duty velvet fabric, stiffer and thicker than the single-sided velvet and strong enough to hold the shape of the bag, suitable for making packaging products that require a fixed shape, such as envelopes, wallets, handbags, etc.
3. Silk velvet, a supersoft and gorgeous fabric. It is super smooth and lustrous, with a shimmery gradient effect in sunlight, perfect for making drawstring bags.
4. Faux suede, a supersoft fabric that imitates the finish of genuine suede, perfect for making drawstring bags.
Click below for larger images:
• How to Process Logo •
Custom logos and prints can be done in multiple ways. We offer the following solutions to meet all your logo processing demands:
1. Silkscreen printing, the most used printing method. It features high durability. Multicolor print is possible (up to 5 colors). Cost-effective.
2. Heat transfer printing, suitable for logos with complex colors and patterns such as gradients, photos, etc. We recommend using this method to print small logos to save printing costs.
3. Digital printing, the newly rising printing method which is born for handling multicolor and all-over prints (10 colors or more) or photographic prints in large size. Natural, vivid, with high definition and durability.
4. Embroidery, traditional, classical, and long-lasting. If you need something traditional and long-lasting, this is your best choice. Multicolor logo is possible. Highest durability. The embroidery process is relatively slow, so the production time is the longest among all methods.
5. Hot-stamping foil printing, the shiniest logo processing method which gives you the metallic visual effect. Multicolor foils are available for selection (see photo below).
6. Branded labels and ribbons, the cheapest way to get your logo on the bag. We can get your logo done on a label or a ribbon and then sew the label onto the bag or use the ribbon as a drawstring.
The effects of the abovesaid logo processing methods are as follows (click to view large images):
• How to Choose Size and Color •
Sizes and colors can all be customized, depending on the order quantity. Bag colors can be chosen as per our below fabric color charts (click to view large images):